Nightly RV Rentals at
Mark Twain Lake
This campsite, nestled among wildflowers and pines at Mark Twain Lake in Missouri, was originally opened in 1988. In 2021, our owners, Andy and Maggie, purchased it and have added full hookup seasonal sites and upgraded the electric, water, and sewer facilities in the full-service campground.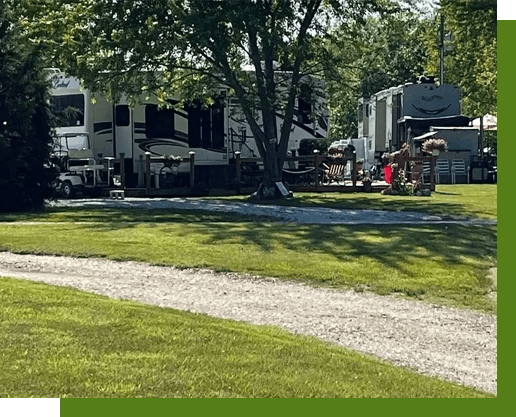 We provide seasonal camping at over 70 sites from April to October. In addition to this, we also offer nightly RV rentals with 50 amp full hookups for a night or weekend.
Our campsite is completely pet-friendly, so you can bring in your furry friends.
If you want a cabin for rent, we have a 2-bedroom fishing cabin and two completely renovated 1-bedroom cabins for nightly rentals. The 1-bedroom cabins are priced at $85 a night, and the 2-bedroom one is priced at $100 a night.
The 1-bedroom cabins come with the following amenities:
PLEASE NOTE THAT WE DO NOT PROVIDE LINENS, AND YOU NEED TO BRING SHEETS, BLANKETS, PILLOWS, TOWELS, WASHCLOTHS, ETC. 
Check-in is at 2 PM, check-out is at 11 AM, and we offer late check-out at 2 PM for an additional $25.